Perpetually Gorgeous Pearl Bracelets
Pearl bracelets, the exotic, exquisite and fashion accessories, add splendid grace and elegance to women. There is a wide range of items and designs available in bracelets and bangles that are made, as well as the designs of the bracelets. Almost every woman can seek attention from gorgeous pearl bracelets. Thus it is necessary to give more information about this kind of jewelry product.
Brief Information about Pearl
Pearls are considered to be one of the most beautiful gems as the June birthstones. Because of their natural and elegant beauty, they have been used for centuries in accenting jewelries.
There are natural or cultured pearls, both of which are grown in oysters or mollusks. No matter natural pearls or cultured pearls are all grown in oysters. The basic distinction of them is that natural pearls are grown accidentally by oysters as nacre is deposited around any foreign material that has entered its shells. However, the growth of cultured pearls is initiated by men. Natural pearls, which are rarer, are more costly than cultured pearls.
Considering the price, both natural and cultured pearls can further be classified into freshwater or saltwater pearls, those coming from the sea being more expensive.
Pearls differ from each other in colors, shapes and sizes. The value of these pearls depends on these qualities so care in choosing the pearls should be taken seriously.
How to Choose Your Perfect Pearl Bracelet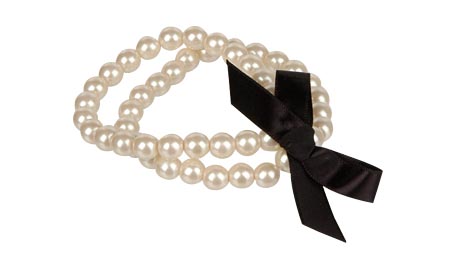 Before you buy a pearl bracelet online, the first thing you should do is to conduct ample researches on a great number of legal companies that advertise pearls. You should try your best to know everything about the products, the company's background as well as return policies. If you can, you must get their address or phone number to contact in case a problem occurs.
Once you have decided on which company you want to purchase from, firstly you will view all their designs. You may be confused about what kind of pearl bracelets is all the rage contemporary. Don't worry about it. Here we are going to provide you with the popular and classy trend on the products.
One type of bracelets are those combined with different metal clasps and chains to make them contemporary. To make an interesting combination bracelet, strands with different colors of pearls may be twisted. In order to make it unique, some strands of pearls may also be contrasted with sterling silver.
Actually, the decorative clasps could serve as the design in itself. Yellow gold beads could alternate with pearls to create a contrasting effect. Aseries of pearls followed by a silver chain could be another possible combination. In addition, pretty charms can hang from the bracelet to add some appeal.
One of the ways to make your bracelet even more valuable will be combining semi-precious gems or even diamonds with pearls. With the different colors of other gems, simple string of plain white pearls could gain a very interesting look. The same attention-grabbing effect can be seen when contrasting colors of pearls are combined together.
As for white glass pearls, they may look amazing if combined with Swarovski crystals, whose stunning combination is a must-have for a pearl collector.
Pearls are simple but very elegant. Buying the perfect string of pearl bracelet for one's delicate wrist is rather important. Consider all the stated points when you are going to choose your ideal pearl bracelet.